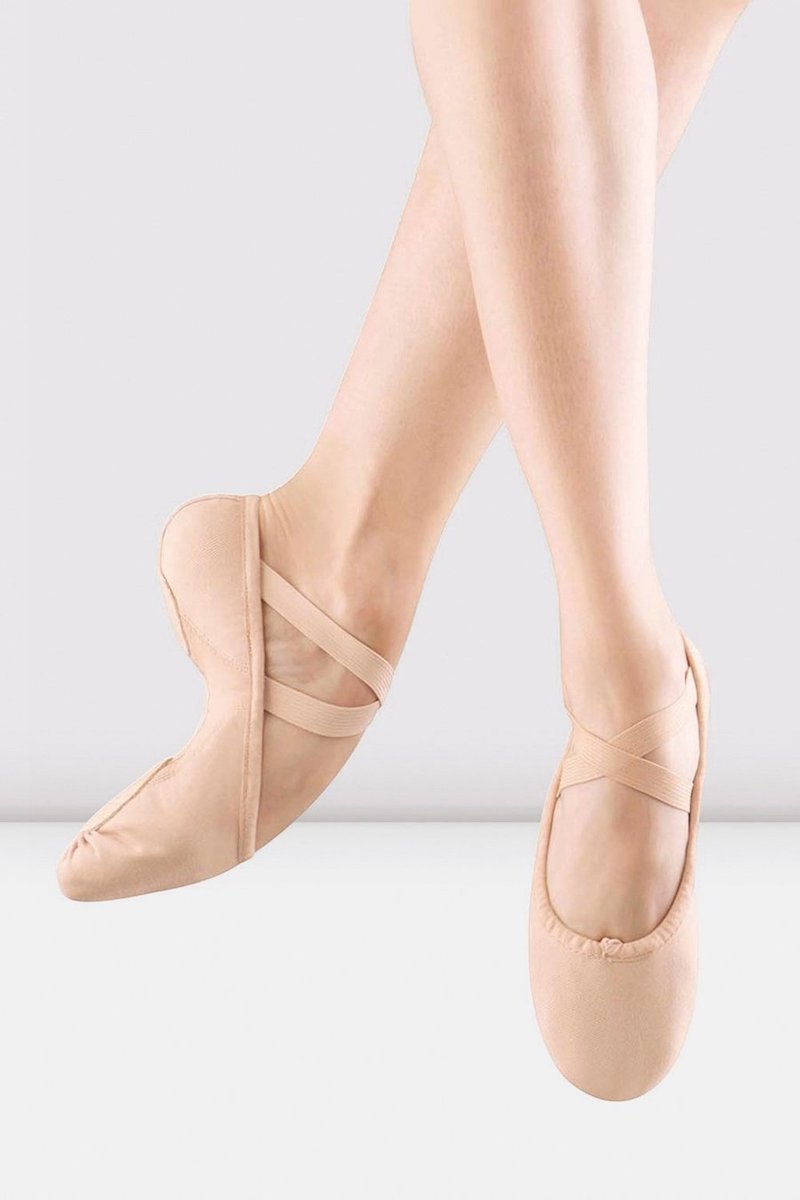 Bloch Proflex Canvas Split Sole Ballet Slippers - S0210L
Regular price
$35.50
Sale price
$23.00
Save $12.50
/
---
Product code: S0210L

Please note this item is final sale.
Description

Proflex canvas split sole ballet slippers for women by Bloch. The Proflex Canvas Ballet Flat is a hybrid of two other existing BLOCH ballet slippers: Synchrony & Zenith. Combining the best features of each shoe, this innovative stretch canvas ballet slipper offers a sleek, streamlined fit which accentuates the contours of the foot, as well as being incredibly comfortable. The unique design also intensely enhances, supports and lifts the arch, while staying in contact with the foot through every movement.
Features
Fused neoprene and stretch mesh eliminate excess material at the arch
Mid power mesh promotes optimum breathability
Innovative fibres within the canvas material stretch and recover, continually reflecting the natural shape of the foot
Low profile design gives a lightweight feel
Soft, plush elastic on the top line eliminates the need for an untidy drawstring and eases pressure on the top of dancer's foot
Pre-sewn crossed elastic to ensure secure fit
Split sole pads are wider with no ridges to allow natural spreading of toes for ease of balance and turning
Elastic drawstring
Product sizing is to be used as a guide as the actual fit may vary. If you have any concerns about the product sizing please contact us prior to ordering.
Size chart
BLOCH's footwear size guide is intended as a suggestion only. Foot shape, width, and lendth of toes can change the way a shoe will fit each individual. All size guidelines are based on a medium width foot. A wide foot would require an additional half size up from the recommended size.
LADIES
US
3
3

½

4

4½

5
5

½

6
6

½

7
7

½

8
8

½

9
9

½

10
10

½

11
11

½

12
12

½

UK
1
1

½

2
2

½

3
3

½

4
4

½

5
5

½

6
6

½

7
7

½

8
8

½

9
9

½

10
10

½

EURO
34
34

½

35
35

½

36
36

½

37
37

½

38
38

½

39
39

½

40
40

½

41
41

½

42
42

½

43
43

½

POINTE
1
1½
2
2½
3
3½
4
4½
5
5½
6
6½
7
7½
8
8½
BALLET
1
1½
2
2½
3
3½
4
4½
5
5½
6
6½
7
7½
8
8½
TAP
4
4½
5
5½
6
6½
7
7½
8
8½
9
9½
10
10½
11
11½
12
CHARACTER
4
4½
5
5½
6
6½
7
7½
8
8½
9
9½
10
10½
11
11½
12
JAZZ
4
4½
5
5½
6
6½
7
7½
8
8½
9
9½
10
10½
11
11½
12
DANCE SNEAKER
4
4½
5
5½
6
6½
7
7½
8
8½
9
9½
10
10½
11
11½
12
TECHING
4
4½
5
5½
6
6½
7
7½
8
8½
9
9½
10
10½
11
11½
CONTEMPORARY
XS
XS/S
S
S
S
S/M
M
M
M
M
M/L
L
L
L
L/XL
XL
XL
XL
XL
XL
DANCESPORT
5
5½
6
6½
7
7½
8
8½
9
9½
10
10½
11
MEN
US
5
5½
6
6½
7
7½
8
8½
9
9½
10
10½
11
11½
12
12½
13
13½
UK
4½
5
5½
6
6½
7
7½
8
8½
9
9½
10
10½
11
11½
12
12½
13
EURO
38½
39
39½
40
40½
41
41½
42
42½
43
43½
44
44½
45
45½
46
46½
47
BALLET
4½
5
5½
6
6½
7
7½
8
8½
9
9½
10
10½
11
11½
12
12½
13
TAP
6
6½
7
7½
8
8½
9
9½
10
10½
11
11½
12
12½
13
JAZZ
6
6½
7
7½
8
8½
9
9½
10
10½
11
11½
12
12½
13
DANCE SNEAKER
7½
8
8½
9
9½
10
10½
11
11½
12
12½
13
13½
14
14½
15
15½
16
CONTEMPORARY
S
S
S
M
M
M
M
M/L
L
L
L/XL
XL
XL
XL
XL
XL
XL
XL
DANCESPORT
4½
5
5½
6
6½
7
7½
8
8½
9
9½
10
10½
11
11½
12
12½
13