5 Dancewear Trends To Try Right Now!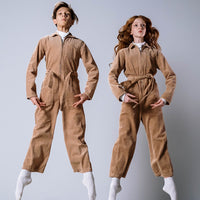 Dancewear is as unique as the dancer wearing them. The great thing about dancewear is that there is so many stylish options, so every dancer can find the perfect piece for them. It is also fun to try new trends and step outside of your regular dancewear! Wearing a new piece can make your dance routine feel energized and fun, just as much as it can also make you feel confident.
Want to find a new outfit or try something new? Here's a list of the five dancewear trends we're noticing this year.
A pop of color
While black and white leotards are classic, it is always fun to give your dance routine a pop of color to add some flare. This So Danca Trinys Ladies Tank Top (F14524) is perfect paired with classic solid black leggings or shorts, over your leotard, or with a printed legging or short. The blue is eye catching and will add that beautiful pop of color while keeping you cool and comfortable.


     2. Layering

Layers are perfect for dancers, especially in Canadian weather! Layers allow you to dress for the elements while being able to change quickly as you work up a swear. This Bloch Ladies Shina Knit Warm-up Top (Z5529)comes in white and black, making is super versatile for any outfit. When you're not dancing, wear it out and about or around the house.
   3. Prints
Prints are gaining popularity in the dance world as a way dancers showcase their personality through their outfits. These So Danca Trinys Reversible Leggings (F14521) feature not one, but two stunning prints. You can simply reverse the pants to get a print on both sides. Pair these with a solid top of your choice, and we guarantee you'll turn heads with this eye-catching print!
    4. Two pieces
Two-piece sets are all the rage right now. They're perfect for the studio and stylish for wearing out and about or around the house. This So Danca Trinys Ladies Crop Top (F14506) paired with the matching So Danca Trinys Ladies Pull On Shorts (F14507) make the perfect matching set. The color is so pretty, and the fabric is so comfy, you'll never want to take this set off.
    5. Mesh & Lace
Mesh and lace add a subtle elegant detail to any dancewear piece. If you're looking for a hint of flair, finding a piece with a bit of both on it is the way to go. The Bloch Aero Halter Neck Open Back Adult Leotard (L7855) is one of our favorite pieces, and it comes in black and daylia (plum).
Not sure what trend is right for you?
We're here at the store to help you find the right piece for your personal style and dance needs. Follow us on Instagram or Facebook for inspiration or contact us at the store for styling help.