8 Most Romantic Songs To Dance To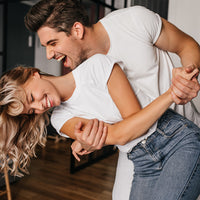 If you're anything like us, one of the best things to do to make your heart happy is watching romantic dance routines on YouTube. Finding the perfect, romantic song can be a challenge because there's so many beautiful songs out there!But we have a round-up of some of our favorites!
This song is a classic, and one that gets danced to everywhere from the rumba to weddings. Ed Sheeran himself even danced to this song in his very own dance routine, making it the top of our favorite dance song list.
Try and not tear up as you listen to this beautiful song. If you made it through listening it without getting teary eyed, then we challenge you to watch couples dancing to it on YouTube without crying! This song is so beautifully written, full of emotion and heart.
This song is romantic but has a fun beat that allows you to really use your imagination to choreograph a dance to it. This choreography by May J L and Bongyoung Park is particularly fun and sweet.
If you're looking for something faster and passionate, this song is for you. The fact that Camilla Cabello and Canadian singer and song writer Shawn Mendes are a real-life couple makes dancing to this song even more fun, since you can feel their energy and passion in the lyrics.  
While this one isn't a specific song, we had to include it in our most romantic list! Watching Tessa Virtue and Scott Moir figure skate to this routine is jaw dropping, and people all over the world who watched them perform it at the 2017 World Championships remember it as one of the most romantic routines they've seen on ice.
There's nothing more romantic than watching a dance duo dance to this tune. The song is a bit sad but showcases the need and desire for being loved.
This piece is both enchanting as it is stunning, and a perfect ballet routine song to dance solo or as a duo to showcase the beauty and connection of dance.
While this song is a bit sad, we all can appreciate the expression of heartbreak and loss that comes from loving someone else. This specific choreography focuses on the feeling of the song as they leave out the vocals and focus on the emotions through dance.
There are so many great songs to choose from, but we hope you enjoy our top eight. If we missed any, please comment on our social media and share your favorites! Follow us on social media or sign up for our newsletter so you don't miss out on new arrivals and sales.