Dance Fitness Classes You Should Try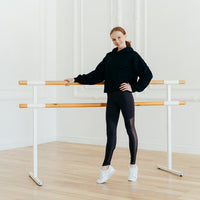 Keeping fit is so important to a balanced dance schedule. As a dancer it's important to take care of your body, whether that's staying strong or building up your conditioning to handle the high intensity dance routines.
Thankfully, there are a lot of great fitness class options in the city. Whether you want to find something for free online, or support a local studio and buy a pass, there's something available for every type of budget and workout. And, many are virtual so you can stay safe!
Not sure what to wear to work out? We've got you covered! We have a ton of great activewear available to support any workout you're into.
Let's get moving! Here are a few of our favorite fitness classes to try:
This Toronto studio offers choreography-focused classes that focus on deepening the mind-body connection. Whether you want to take a choreography class, try mindful movement, get a stretch in with a yoga practise, or get your heart pumping with a fitness class, there are great options available virtually to support your dance practise.
A monthly pass is $19 a month for unlimited access. You can also try a free trial.
     2. Barreworks
We're obsessed with barre workouts, which are a ballet inspired fitness class that really compliments any dancer's fitness routine. Toronto barre studio, Barreworks, offers sculpt, stretch, cardio, and Pilates classes on top of their traditional barre classes. And, all classes are offered virtually right now. With the Barreworks at Home platform, you can even choose 15, 30, and 50-minute classes depending on how you're feeling.
You can try the platform free for 7 days, and after that the subscription for unlimited 24/7 access is $34.99 a month.
 3. Blogilates
If you're looking for something free, Blogilates is a great online program. Go to the Monthly Calendar page and download the monthly calendar. Then, you simply go to YouTube and search the video names for that day and get in a full workout, totally free.
Most of the classes are equipment free, so no need to worry about anything other than a yoga mat. The dance inspired, Pilates strength classes are guaranteed to make you smile as you follow fitness blogger Casey Ho on your fitness journey.
       4. Elle Fitness

This female-led, Toronto boutique fitness studio will seriously get you feeling excited to workout. They just launched their virtual platform, @elleondeand but they also run free fitness classes on Instagram Live on their @ellefitnessto page.
Classes run from 15, 30, to 55-minute classes and they have a ton of different classes to choose one. If you're up to it, they also have challenges you can participate in. ElleOnDemand is offering a 30-day free trial, and after that it's $19.99 a month for unlimited access.
Another great, free option on YouTube is GrowingAnnanas. She has amazing HIIT workouts of all lengths and we guarantee you'll break a sweat after doing one of her videos. The routines are very easy to follow and need no equipment.
Best of all, her workouts are 100% free.
Find the gear you need to rock your workout
At Footloose, we're here to support you with the perfect items both on and off the dance floor. We have a ton of stylish, comfortable activewear available to go with any fitness routine. Even if it's just a walk, there are great pieces for looking great and feeling good.
Follow us on Instagram and Facebook or sign up for our newsletter for new products, sales, and other announcements!