Get Into Shape With Our Favorite Exercise Gear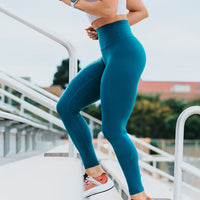 We've been talking a lot about working out at home here on the Footloose Dancewear blog and now it's time to get into the fun stuff – workout gear! Working out should be comfortable and fun, and thankfully we have some great products that will make your workout a breeze.
Whether you're taking an at home dance class, tackling a HIIT workout, or doing some yoga stretches, there's a product to fit any kind of workout. And best of all, a lot of this gear is great for at-home schooling, working from home, or going for a walk in comfy attire.
Here is a list of 10 products we're really enjoying for working out at home:
Kids
Bloch Girls Capri Leggings - FP5208C
 These capri leggings give a beautiful pop of color that is oh-so-fun to wear for any workout. Pair it with a cute cropped or full-length top and you're good to go from home to studio.
Bloch Child Mesh Panel Printed Capri Legging - BM244P
We can't get enough of this fun print! These capri leggings are bold, fun, and stylish with a Cezanne paint stroke inspired design. The mesh panel on the legs gives the style some depth, perfect for any workout.
Bloch Perforated Girls Crop Pant - FP5217C
These versatile pants are a must-have for the studio, on the go, and relaxing at home. The cropped length make it comfortable for dancing or fitness and look great with sneakers for a fashionable look when you're on the go. The dual pockets are also a nice touch.
Mondor Mesh Racer Back Girls Crop Top - MD3593
This mesh racer back crop adds a touch of flair to a perfect staple. Whether you're dancing, working out, or lounging around the house, this comfortable bra is a must-have.
Bloch Child Mesh Panelled Detail Top - FT5220C

This mesh panelled top is lightweight, comfortable, and perfect for any activity. The soft opaque panels give it a stylish but breathable wear.
Adults
So Danca Trinys Ladies Long Shorts - F14529
Bike shorts are very in this season and they're perfect for working out or wearing as a stand-alone outfit. This print is extra special, as So Danca has developed a collection dedicated to women who overcome whatever challenges are thrown their way. Feel like you can take on anything in these beautiful and comfy shorts.
So Danca Trinys Ladies Bralette Crop Top - F14478
Not your average sports bra, this asymmetrical crop top is the perfect way to push the boundaries of active wear with an eye-catching piece. It's also available in Petal Pink.
So Danca Trinys Ladies Reversible Leggings - F14521
Yes, you're reading that right – these leggings are reversible! You get two prints with one pair of leggings with these special leggings by So Danca. Just turn them inside out and voila, you have a whole new look.
Bloch Ladies Lyrik Mesh Back Tank Top - FT5159
This versatile top is effortlessly chic, while also being super comfy. You can wear it tied up or loose, giving you options for whatever active look you're going for. It's also available in white.
Bloch Tatiana Knit Adult Warm-up Top - Z5522
This top is another one of our favorite staples. It's stylish, cozy, and will serve you well during your commute to class or in a yoga class at home. It's perfect for layering over your outfit, whether you're headed out to do errands or getting some work done at home.
Need help picking out the perfect workout gear? Let us know!
We're always here to help you find the perfect item. Whether you're working out at home, needing something for lounging at home, or getting ready to head back to the studio, we have something for everyone.
Share photos of you in your favorite dance gear on Facebook, Twitter, and Instagram – we'd love to see them!