Get your New Dance Shoes from Footloose Dancewear!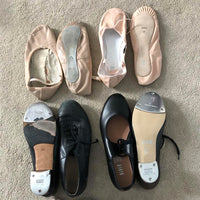 Are you ready to put on your dance shoes again by heading to private dance classes? Do your dance shoes need a re-vamp? 
Find your next stand out pair at Footloose Dancewear! Take a look at our collections of ballet slippers, tap shoes, jazz shoes and more. 
We also have a wide selection in store at our Bloor West Location. If you would like a custom fitting or have questions please visit us. Contact us for an appointment via phone or email.