How this Ballerina is Staying in Shape at Home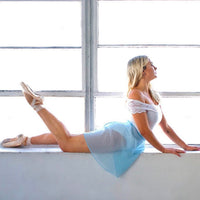 During these trying times its even harder for dancers to hit "pause" on their training and with no immediate performances and events in site most dancers feel the need to stay in shape even while at home. 

We turned to Alexandra Pullen, former member of American Ballet Theatre, current Só Dança ambassador and Los Angeles-based freelance dancer signed with Bloc LA to see how she's keeping fit during this time.
Where are you quarantined right now? What's your 'home studio' set-up?
"I'm currently quarantined in sunny Los Angeles, with family friends. My studio set-up is the corner of my room where I place a chair that is coincidentally the exact same height as a ballet barre."

How are you staying in shape during this time?
"I take Zoom ballet class at least five days a week, go on daily walks and cross-train with HIIT workouts, Pilates and yoga to unwind. I have lots of workouts and yoga classes on my Instagram TV that I've been sharing (@healthy_ballerina).

I try to stay active throughout the day in simple ways like stretching or getting up every hour to go for a quick walk. I'm also quarantined with three kids under 10, so running around after them keeps me from being too sedentary!"
What are your tips for dancers for staying motivated and inspired during this time of isolation?
"Just do it! Make a schedule, and stick to it. Keep reminding yourself that this time will pass, and use it to get stronger and focus on areas of your technique that you don't typically get a chance to zero in on. Use this time to reconnect to your love for movement and dance -- without mirrors, without showing off to other dancers, without getting praise or corrections from your teachers. How can you tap into the joy of expressing yourself through movement and why you began dancing in the first place? Most of all, do what feels good. Don't put too much pressure on yourself to be perfect."
Have you picked up any new habits during this quarantine time?
"I finally learned how to French braid my hair, which is going to make ballet buns so much more interesting! I also finished my bachelor's degree through the LEAP program for dancers, so I'll be attending virtual commencement next week. I've also gotten in the habit of meal prepping and finding delicious, healthy and inspiring recipes to cook at home, which has been fun."

What have been some of your favorite classes to take at home?
"I take Zoom ballet classes with my favorite teacher, Ido Tadmor. He's amazing! So encouraging and inspiring. He teaches via Zoom and offers individualized corrections, which makes you really feel like you are in a class setting (even if you're in the corner of a tiny room using a chair as your ballet barre). You can email him idotadmor@gmail.com to get information about his classes and to join! He does free classes every Sunday!"

Any other tips for staying in shape during this time?
"Just move your body in a way that feels good to you! You will feel better, I promise! Set tangible goals for yourself, and stick to them. At the same time, if you don't feel like doing ballet every day and that's not inspiring to you, don't force it. This is a global pandemic, and we all handle stress in different ways. Allow yourself to do so in any way that your body needs. Our body and nervous system is still adjusting to the shock of this new reality, so just be gentle with yourself! Don't put too much pressure on 'staying in shape.' When life returns to normal, so will your body. Don't worry! Eat nourishing foods, move your body when you can in a way that feels good, listen to your body, find relaxing and restorative practices, and fit in movement whenever you can!"

For more information on Alexandra Pullen, visit www.healthyballerina.com and follow her on Instagram: @healthy_ballerina.