New Year's Resolutions for Dancers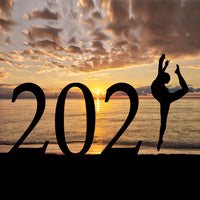 We made it to 2021! This year may look different than the other January's we've had, but there's no reason to avoid making some New Year's resolutions. Even though we're all staying home, there are lots of goals you can make as a dancer that you can accomplish safely.
There's still a lot to look forward to. At Footloose, we're here to help you with your dance journey.
Here are some New Year's resolutions for dancers:
Join a virtual dance class
Dance classes are still happening over Zoom! Whether you're dancing with your regular dance class, or just getting in some drop-in classes to stay active, you can participate in dance and feel connected with dancers online. Online dance classes are a great way to stay in practice with your current dance style or try something fun and new.
We have lots of great dancewear for at-home dance classes, such as a Bloch Ladies Lyrik Mesh Back Tank Top (FT5159).For kids and teens, the Bloch Crop Top with Cross Back (BM262T) paired with the Bloch Child Mesh Panel Printed Capri Legging (BM244P) make for a great at-home dancewear outfit that's practical and stylish.
Some dance studios that are offering online classes are:
Sort through your dancewear: toss, replace, donate
As you get organized, it may be time to take a good look at all your dancewear and products to decide what to keep, toss, or donate. With the extra downtime, you'll have time to go through your closet and take a hard look at your dance tights, leotards, shoes, and scrunchies.
Contact Haven on the Queensway to donate your used clothing locally to those in need. Soles4Soulsaccepts shoe donations and has many Toronto and GTA locations.
Upgrade your wardrobe
Just because you're dancing from home, doesn't mean you can't feel good and look good by wearing the latest dance fashion trends.
The SoDanca Adult Rubber Sole Jazz Shoes (JZ76L) are a great all around shoe, perfect for at home and in studio dance class.
The Ainsliewear Arden Leotard with Grand Elegance Print (1101GEV) is comfortable and stylish, with a velvet waist and straps. SoDanca Adult Convertible Tights (TS82) are a great high quality tight that you can wear to dance in and not worry about forgetting to take off right away as you lounge about the house. They're sturdy and durable.
For a new you in the new year, try a pair of SoDanca Adult Stretch Canvas Split Sole Ballet Slippers (SD16). These stretch canvas, no draw string slipper is bliss for the foot by hugging the foot perfectly. Perfect for dancing at home and in the studio when things reopen.
Support local
A great New Year's resolution this year is to support local small businesses. Gift cards are a great way to give some love to your favorite studios, dance shops, and local businesses.
Shop local when you're able to as well. At Footloose, we're open for curbside pickup and shipping anywhere in Canada. Located on the Kingsway, we are always here to help dancers find the perfect item no matter what your New Year's resolutions this year are.
Follow us on social media or sign up for our newsletter so you don't miss out on new arrivals and sales.