Revamp your Dance Wardrobe with Red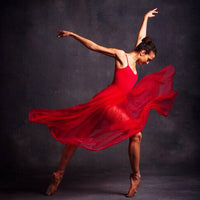 February is the month of romance, with Valentine's Day just around the corner. February is also a great time to rethink your dance wardrobe, organize, and update some dance costumes and pieces with new ones to bring new energy to your dance practice.
Red is a bold, eye catching colour that is flattering for every dancer. It's romantic and classic, edgy and beautiful all in one.
At Footloose, we have lots of pieces in red from statement pieces to more subdued hints of detail. Here are a few of our favourite red inspired pieces:
Bloch Ladies Rosetta Embroidered Waist Leotard in Ember (L2965)
This leotard has an ornate embroidered waistband with thick straps and open back, mixing comfort with style. The ember color is a subtle red that's bold without being too loud and the v-neckline is flattering for all body types. This leotard truly is perfect for any dancer.
Bloch Ladies Kiana High Neck Leotard in Garnet (L4845)
Feel like a queen in this romantic, stand-out tank style leotard. The bodice paneling and sectional Venezia stripe mesh panels give the leotard depth and allure, with a straight neckline to add a flattering shape to any body type. The Venezia stripe mesh detail wraps around the back, with a zipper for easy wear.
Block Venezia Leotard (TWL4897)
The perfect leotard to add a touch of drama to your ballet practice. This classic camisole leotard has princess seams which are accentuated by a stunning Venezia stripe mesh back panel. The moderate scoop front and high back provides a flattering neckline, while also providing extra coverage for young dancers. This leotard is as versatile as it is stylish, and the red makes it really pop.
SoDanca Adult 1.25" Heel Character Shoe in Red (CH02)
This classic SoDanca shoe has a flexible sued sole and low 1.25" tapered heel, making it the perfect choice for ballroom practice, folkloric, or anything that makes your feet move. A pop of read adds character to any outfit!
SoDanca Child Racerback Crop Top in Red (D188)
Talk about a stand out piece! This supportive yet comfortable racerback bra gives a fun spin on a usual bra top in an unmissable red. The racerback detail keeps your bra in place, even during the craziest of dance routines.
SoDanca Ukrainian Boot – Women's (UB1-1000)
These soft supple leather Ukrainian dance boot with a suede sole and 2" heel are comfortable and stylish. These boots are great for dancing the night away, with extra flare of the pop of red.
SoDanca Adult Fitted Print Mask with Ear Loops (RDE2176)
Be safe in style with these comfortable and fashionable SoDanca face masks. The ballerina print adds a pop of red to any outfit, and the soft fabric gives you the ability to breath easily while you dance and move once studios reopen.
Add red to any outfit
Whether you're going bold or adding just a touch of color, adding red to your dance practice, costume, or home stretches is a great way to bring some personality and flair into your routine. Don't be scared to add a pop of color and stand-out from the group!
Reach out to us today if you need something to support your at-home dance routine. Follow us on social media or sign up for our newsletter so you don't miss out on new arrivals and sales.