#Savethearts Store Window Artwork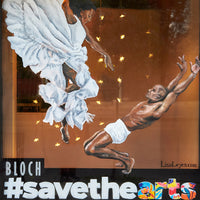 A beautiful piece titled 'Separation' by artist Lisa Leyes created on our store window to signify the importance of the arts and the effects of the pandemic on the dance industry.
Show your support for #SaveTheArts with face masks from Bloch. We believe dance should be accessible to everyone and an education in the arts is key to a well rounded society. For every #SaveTheArts mask sold, we will donate $3 to registered charities supporting performing arts professionals that have been affected by COVID-19.

Come for a walk down Bloor Street to see this beautiful work of art in our window.