Tap into Spring with our Favorite Tap Dancing Products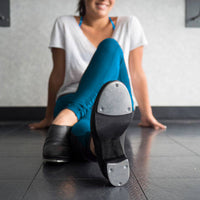 The sun is out, the grass is showing, and birds are chirping – now that is something to tap about! Tap dancing is such a fun form of dance, and one we can all enjoy when the mood strikes. Whether you're a professional tap dancers, someone who enjoys a tap dance class to round out their dance skills, or someone who enjoys tap dancing for exercise, chances are you know how hard it is to resist the urge to do a little choreography when you're in a good mood.
Now that spring is in the air, we're in the mood to tap. With that, we wanted to showcase some of our favorite tap products to inspire every dancer. These products are great for the pros and great for beginners. If you have any questions, don't hesitate to reach out!
Here's some of our favorite tap dancing products:
These durable leather sole and iconic Capezio® Tele Tone® toe and heel taps are not only comfortable but make an immaculate tap sound. The tapered heel with light padding help young dancers stick to the beat without any hesitation. If you want something that will last and be comfortable, these shoes are perfect. 
The same great shoes we just mentioned, but for adults. The Capezio® Tele Tone® toe and heel taps create a deeper resonating sound and the lightly padded footbed and collar for comfort make these shoes a dream to dance in.
With a full leather upper, these shoes are both durable and stable with a lace up front adding a touch of style. Non-slip pro balance rubber pads and reinforced eyelets, along with a cushioned insole for comfort and shock absorption make these shoes comfortable and powerful sounding.
These Jazz Oxford shoes are full sole, lace-up styled tap dancing shoes. They are designed with BLOCH's signature techno taps, as well as a strong, soft, comfortable leather upper and cushioned insole. These shoes are comfortable and durable, and sound incredible on the dance floor or stage.
These men's pro tap shoes are a favorite amongst dancers, with a rubbed pad on the shoes for added benefit. You can hear the difference these shoes make, with a double leather sole and solid wood heel to give the best sound quality in the industry.
You can hear the difference when dancing in these shoes again as these shoes have the performance double leather sole and solid wood heel for impeccable sound. Premium leather makes these shoes durable and they have the rubber pads attached to shoes for an extra bonus.
Also, we can do custom order pro tap of the TA800 tap shoes.
Tap your way into a new season
We have lots of great dancewear and active wear to go with your new tap shoes. Check out our website for more products or call the store if you need a hand. We're always willing to help you find the perfect item for your dance lifestyle.
Follow us on Instagram and Facebook or sign up for our newsletter for new products, sales, and other announcements!