Virtual Dance Workouts to Keep Your Dance Routine Fit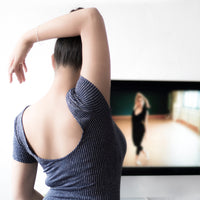 We know you all miss the dance studio! While nothing will replace the feeling of stepping into the studio and dancing side-by-side with all your dance mates, there are lots of fun virtual dance workouts to try at home.
The great thing about virtual dance workouts is you can keep fit, try new moves, and do it all in the safety and comfort of your own home. Not only that, but you can dance anytime you feel like it and all these great classes are free.
Here a few of our favorite online dance workouts:
   1. 30-Minute No-Equipment Barre Sculpting Workout
This workout is ballet inspired and you don't need anything to get started. Plus, 30 minutes is the perfect amount of time to get the blood flowing. Paired with a quick dance stretch, this workout is great for getting in some toning and cardio.
    2. Reggaeton – 30 Minute Cardio Dance
This dance inspired cardio class is easy to follow and so, so fun. If you want to dabble in a different dance genre, then we highly recommend this video. The music is full of life and you will have no problem finding the beat as you follow the moves.
   3. 15 Min Dance Party Workout – Full Body/No Equipment
This quick dance inspired workout is set to a 2000s music theme and is a way back playback you won't regret trying. We recommend trying this dance workout in the morning to get a fun start to the day.
  4. 20-Minute Hip-Hop Dance Class
If you were ever curious about trying a hip-hop dance class, this is a great beginner class. The choreography is great for all levels and the energy of the dancers is contagious.
  5. Kyle Hanagami – Dua Lipa, Break My Heart Dance Tutorial
Who doesn't love a Dua Lipa song? This dance is a bit more advanced, but perfect for dancers looking to try some new choreography to a popular song. If you have 30 minutes to learn a routine, this video will be an exciting challenge.
  6. 30-Minute Cardio Latin Dance Workout
We dare you not to break a sweat to this one! Latin dancing is so energetic and filled with passion, and this workout is a great opportunity to get a taste for it in an easy to follow way. Plus, you will have the music stuck in your head for days, it's just that good!
Getting the most out of dancing at home
When you're dancing at home, we recommend still getting dressed up in your favorite dance gear. Feeling in the zone will boost your mood and help you really feel the moves as you workout. As an added bonus, dancewear is breathable and comfortable.
Share with us your favorite dance workouts on Facebook, Twitter, and Instagram – we'd love to hear them!