#SaveTheArts with Footloose Dancewear & Bloch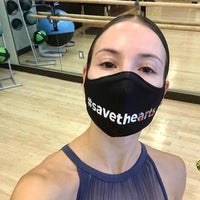 This month we're taking time to reflect on the important of the dance and the arts. It's no secret that the last year and a half has taken a toll on all communities all over the globe. Dance and the arts have been no exception – dance studios are empty, theatres have closed their doors, and many dancers have had to find new ways to keep their dance skills practised.
"Across the world, theatres are on the verge of collapse and the professionals who fill their stages and work behind the scenes are facing widespread unemployment," Bloch writes on their #savethearts page. "The effects of the pandemic have had on the arts industry is devastating and in the most part, largely overlooked by world leaders."
We've been inspired by Bloch's #savethearts campaign. Here at Footloose, we not only sell their #savethearts masks but have also painted our windows to bring awareness to the dance industry.
Why dance (and the arts) are important
Dance is not only an important part of our culture, it's also something that brings people together and evokes emotions of those dancing and those watching. For dancers, it's the way they express their selves, stay fit, and feel part of a community of lifelong friends.
Dance is an expression of creativity and imagination, bringing together the body and mind in an impactful way. Whether you're posing on the barre or winging it to a hip-hop track with friends, dance is without a doubt the best way to blow off steam and get a rush of feel good endorphins.
For the dance spectators, there's nothing more immersive than watching a dance routine. Whether it's a single ballet dancer, a salsa dancing crowd, or 4-year-olds try their best to keep their tap routine on time, there's nothing better than the buzz of a crowded theatre.
The impact of COVID-19 and the arts
Many businesses have been impacted by the COVID-19 pandemic, and dance is no exception. As studios and stages everywhere closed to keep the community safe, many who make a living in the arts have been impacted. Not only the owners of these businesses, but also the employees who make their living working there – box office employees, janitors, assistants. Many places have had to close for good, and employees have been unemployed or needed to find jobs in a new industry to make ends meet.
But dance and the arts are a resilient bunch. Many dance studios have pivoted to online classes and offerings, bringing together communities who can't be together physically. The dance community has rallied around one another, supporting dancers and each other through this time.
What can you do to help?
Support local. Purchase online classes to your favorite dance studio, buy gear from their website, or gift cards. At Footloose, we offer curbside pickup.

Buy a Bloch #savethearts mask. We will be donating $3 from every mask sale to support registered charities that support performing arts professionals that have been affected by COVID-19

Spread the word. Drop by our Footloose window, snap a pic, and use the hashtag #savethearts
Together, we can get through this tough time.
Check out our Instagram page and send or tag us in any #savethearts content, and we will amplify it on our social media!