Why Everyone Should Use Dance for Self-care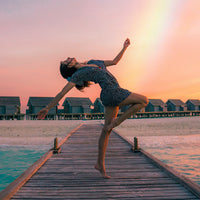 It's no secret that self-care is something we all need to be working into our schedule. It can be hard to find the time to do self-care, which is why it's important to find something that gets you excited to work into your schedule.
Dance is a great self-care tool. Not only is it a workout that's good for your body, but it's also good for your mind too. Here is why we think everyone should use dance for self-care – whether you're a professional or not!
Dance is great for your mental health
Exercise is one of the best things you can do for your mental health. Exercise has been provento help decrease feelings of depression, anxiety, and stress as well as help with sleeping, memory, and feelings of self-esteem. Dance is such a fun way to get your blood flowing and heart rate pumping. Whether you're taking a dance fitness class or trying a virtual dance workout, dance is a great way to get in your daily exercise.
Dance is great for feeling connected
There's nothing better than dancing with a group of people, whether it's in a studio or over Zoom. Dance is a great way to find a community of likeminded people, new friends, and have some time to socialize while you're also exercising and having fun. If you're a couple, you can even take salsa or dance classes to help deepen your connection.
It's a great way to let your emotions out
You can use dance as a way to express your emotions – whether it's happy, angry, sad, or silly. Feeling the music and moving your body is a great way to let it all out of the dance floor, in the studio, or in your own room.
You'll improve your coordination & balance
The skills you learn to dance help you in other areas of your life and fitness by increasing your coordination and balance. Especially if you're making time to stretch, your body will feel better all over and you'll help protect yourself from injuries.
Dancing will make you more confident
Like we mentioned in #1, dance is proven to help with self esteem. The great thing about dance is that it's accessible to everyone and every body type. Whether you're taking free classes or blasting music in your room, dancing with friends, dropping into a dance class, or part of a dance studio, dancing will help you gain confidence in yourself by expressing your own personality.
Any one can do it
Yes, anyone! You don't have to be a trained dancer to try a virtual class or drop into a studio. Many studios also have dance lessons for all levels, at any age. And hey, you can always bust a move at home in the kitchen. If you feel good dancing, there's no reason to not try to incorporate dance into your self-care routine more often.
Dance for 5 minutes with no bounds
If you're not sure how serious you want to take dancing for self-care, we encourage you to blast one of your favorite songs and let your body move without caring what anyone would think. Let it all out – the emotions, the tension from sitting all day – anything!
Learn a Tik Tok dance
If you like social media, try to learn a Tik Tok dance or another trending dance. It's fun to try with friends or if you want to feel accomplished, try learning it all by your self. Post it online for your friends to see if you feel up to it. They're so fun to watch and even more fun to make.
So, you're going to try dancing for self-care?
We've got you covered. We have a ton of products to encourage any body, and any type of dancer. Follow us on Instagram or Facebook for inspiration or contact us at the store for styling help.