How To Prepare To Get Back Into Dancing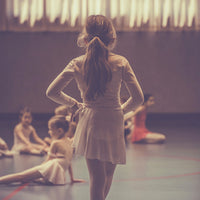 It's so exciting that dance studios are finally fully open again and dancers are hitting the dance floor to get back to doing what they love most. Whether you're new to dance or a seasoned dancer, getting back into dance after a long break can be a little daunting.
Whether you feel rusty with your skills or technique or are feeling shy after being away for so long, coming back to dance may feel like a mix of excitement and nerves. Either way, there is a few things you can do to prepare to get back into dancing.
Try a drop in class
If you're nervous about your first day back at dance class, get your nerves out in a fun, low stress environment like a drop-in dance class. Whether you're taking your favorite style of dance or something you just like to do for fun, a drop-in class is a place where all levels of dancers come together to learn a new routine in one class. Not ready just yet to go in person? Try a virtual dance class to ease back into things with a structured routine.
Watch a dance class or live show
Sometimes all it takes is watching dance to feel inspired to get moving. Watch a friend's class or ask a studio if you can see what their dance classes are like. Find a local dance show or professional ballet tickets and watch the professionals do their thing. If you can't find something live, watching online is another great option to feel motivated.
Freestyle
Turn on your favorite song and let your body move! Dancing with no bounds is a great way to boost your mood and get in a bit of self-care. Just letting the music lead your body is a great way to used to movement before stepping into an official studio.
Get some new dance gear
Sometimes a new dance outfit can give us all the confidence we need to get back to the studio. Find a new, trendy piece of dance wear that makes you feel bold and brave, and walk into the studio like the rockstar you are!
Start slow and don't compare yourself!
While muscle memory will help your body get quickly up to speed in terms of technique and fitness level, try not to rush your progress. If you've spent the last few months taking a total break, it may take your body (and mind) a bit more time to get used to dancing again. Try to not compare your abilities to the other dancers around you. Everyone goes at their own pace.
It's your dance journey…
Take the time you need to mentally prepare yourself for getting back into dance, and if you're feeling anxious, remember you're likely not alone. If you need more time to get prepped, take the time you need. Your body and mind will thank you for it.
We're here to support every dancer's journey. If you need new gear, exercise clothes, or a new piece of dancewear to rock that first dance class since your break, we can help. Follow us on Instagram or Facebook for inspiration or contact us at the store for styling help.